Buffalo is certainly known for its great restaurants but not all of them have private space adequate for a rehearsal dinner. To save some of you the brainstorming, here's a short, by no means complete list of places you can consider for your rehearsal dinner in Buffalo.
Pearl Street Grill & Brewery (76 Peal Street) is also popular for receptions but they also now have the neighboring Pearl at the Webb. They have multiple spaces to choose from.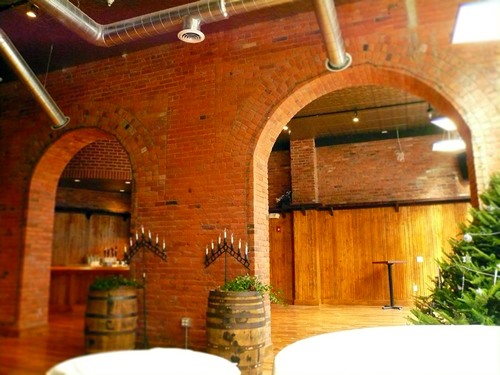 Cabaret (490 Pearl Street) is located in the Theater District. They are busier on nights when there is an event at Shea's. When there's not, it would be less crowded and you would have access to free parking. They offer buffet or sit down with separate choice of bar package in their upstairs private banquet area.
Bambino Bar & Kitchen (297 Franklin St) is a newer restaurant. Their business is growing and they now only hold private events in the offseason/winter on their enclosed rooftop patio. Their delicious Italian menu includes items like Brick Oven Pizza, Bolognaise, Sunday Sauce, Risotto, Caprese Salad, etc.. Their patio isn't huge but set up station style it can hold more people.
JP Bullfeathers (1010 Elmwood Ave) is in the heart of the Elmwood District...a great spot to bring your out of town guests. They have a large parking lot and an upstairs and downstairs room, both of which can be used for private events up to about 50 people. Their banquet menu is online but they have more options if you call.
www.jpbullfeathersbuffalo.com
Papaya Asian Kitchen & Bar (118 W Chippewa) is connected to the Hampton Inn downtown and their upper area is suitable for a private event. Perfect location for guests staying downtown.
The Steer (3151 Main St) is located in North Buffalo near UB South. Their upstairs - rightly named The Montana Room - can be used for private functions. Their prices are reasonable and they can fit 50 people easily but the set-up is fixed: booths against the walls. They also have a large parking lot.
www.curtainrestaurants.com
Laughlin's (333 Franklin St) calls themselves "A Hearty Buffalo Bistro", serving up roast beef, slow roasted chicken, several cuts of steak, pasta with shrimp, etc. Their private banquet room only holds about 20 - perfect for your smaller, slightly more upscale rehearsal dinners in a venue with hints of Frank Lloyd Wright's style.
Empire Grill (1435 Hertel Ave) is another great location for a smaller party. Their private upstairs, overlooking the heart of the Hertel strip through their big picture windows holds up to about 25 people sit-down. Fish is a prominent dish on their regular menu.
The 31 Club (31 N Johnson Park at S Elmwood) is a lounge restaurant option for about 50 people. Their private event space is upstairs and additional parking is available atfter 5:30 pm in surrounding lots. A carving station would be a nice touch in this venue.
The Irish aren't known for great food but WJ Morrissey's Irish Pub (30 Mississippi) is. Their private side banquet room with attached private front patio holds up to 40 people and they require 30 person minimum on a Friday or Saturday. Treat your guests to the Buffalo Package (beef on weck, pizza, wings) or opt to choose from their regular menu of Guiness Stew, Fish & Chips, Bangers & Mash, etc. Being in the Cobblestone district, parking would be problematic during an event at the arena.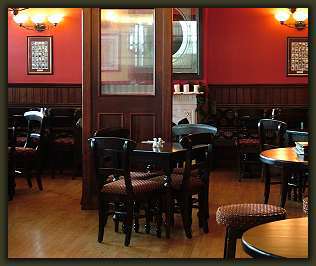 Hotel Lafayette (391 Washington St) has just recently opened their restaurant for reservations. Even before then, they were booking up for dates in the future. It may be tough to book a rehearsal dinner here now that the newest, most anticipated wedding reception venue has opened but it's worth a shot.
You can also check with the hotel you've partnered with for your overnight guests to see if they can offer your rehearsal dinner in one of their event spaces.
Other favorites are Chef's, the Bijou Grill, Anchor Bar, the Buffalo Chophouse, and Encore Restaurant.
Some additional non-traditional ideas include the Pierce Arrow Transportation Museum, Ellicott Square Building, The Frank Lloyd Wright Fontana Boathouse, the Buffalo Bisons, or a sailing dinner on the Spirit of Buffalo, the Moondance Catamaran, Grand Lady, or the Miss Buffalo.
Many of the good venues book up far in advance, so I would suggest booking as early as possible. Happy planning!