Considering all of the people who may be involved in planning a bridal shower, it can sometimes be more overwhelming than planning the wedding itself! While I don't really believe that there are hard and fast rules you need to follow with your wedding or any of the events leading up to it, it's still nice to know the traditions and expectations that go along with a wedding and shower. Here are some rules for a traditional bridal shower and some ideas on how to break them.
the-louisville-wedding-blog.com
Traditionally, the mother of the bride (and of course the bride) would never plan the bridal shower. While some will still say the MOB should not host or plan the shower, this is becoming more passé. Whether it's because bridesmaids can't afford to host, or female family members live too far away to step forward, there isn't always someone who can be the responsible person. No matter who is planning the shower, the bride is often involved much more than she lets on. While sometimes it can't be helped, brides should try to stay away from the planning as much as possible to make it easier on the women who are stepping in to plan. If the bride does need to be involved, try to make it discrete.
When creating the guest list, it is hard for the bride not to be involved. Normally, if a guest is invited to the shower, she must ultimately be invited to the wedding. This is one of those rules that I would say shouldn't really be broken. Once a woman gets invited to a shower, she expects a wedding invitation. However, not all female guests need to be invited to the shower. This is the tricky part where the rules are all made up and you can make any decision you want about your guest list.
Showers are typically held one to three months before the wedding. If a significant number of guests live in a different city, you may choose to have two smaller showers in two different cities in order to accommodate your guests. This means you'll have to have two different ladies volunteer their services, which is not always easy. But the guests will appreciate not having to travel, especially when they may be traveling soon for the big day. There's no rule here other than do what works for you and your guests. You can't please everyone, so make sure at least you and the hostess(es) are happy!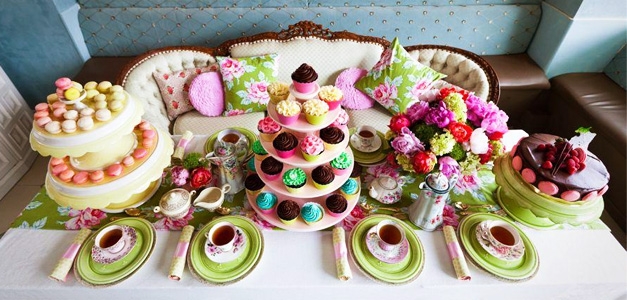 Bridal showers held more significance back when couples lived separately until marriage. Certainly every bride should still be entitled to a bridal shower, even if she has already made a home with her husband-to-be. I'm sure any cohabitating bride can find some fun things to put on that registry.
To stay on the topic of gifts, your guests will expect you to register for mostly common household items. If you don't need another toaster or set of towels, you can sign up for a honeymoon registry instead and guests can contribute to the honeymoon of your dreams. This makes for a fun and relaxing bridal shower with no gift opening – just cocktails and socializing!
If you do decide to stick with the traditional gift registry, choose two or three store registries - it's nice for guests to have options of where to shop. You'll also want to choose items to fit everyone's budget. But if you want something expensive, don't be shy about putting it on your registry! You may get the robotic vacuum you never thought you'd get, even if it comes from all 8 of your first cousins! Most registries offer a discount on items not purchased by the shower date so you and your fiancé can get a deal on that blender you really wanted.
When all the gifts are opened and you've recuperated from the extravaganza, it will be time to write your thank-you cards – ASAP! I know I said there are really no rules with a shower, but this may be the one exception. There are plenty of shortcuts for this step if you hate the idea of writing thank-you cards. At the shower, you can have guests each write their name and address on an envelope and then use the envelopes to draw a winner for a gift basket. Et voila, half the work is done! As for the other half, recruit a bridesmaid to take a list of all the gifts you received so you don't forget what to thank people for. You'll be writing thank-you cards after the wedding as well, so consider this your test run. They don't have to be elaborate – just like the gifts you received - remember it's the thought that counts!